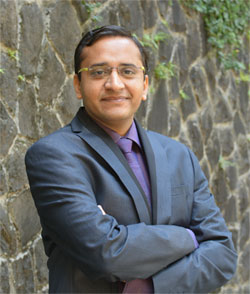 Mr. Mehulkumar Dave is an expert Neuro-Psychotherapist with the extensive experiences in various domains of Counselling, Organizational Behaviour, Training and Psychological Testing cum Assessment. Apart from Dual degrees - M.Sc. in Organizational Psychology & MA in Counselling Psychology, he holds post graduate degrees in the disciplines of English Literature & Comparative Indian Literature from Mumbai and Delhi University respectively. He has been associated with various NGOs and Senior Psychologists, Psychiatrists, Neurologists and Social workers of Mumbai & Delhi. He counselled Juveniles delinquents of Prayas Juvenile Justice Home and shelter home kids of various places in Delhi and he has also trained more than 5000 CBSE teachers across India in various programs and workshops. His approach of training is custom made keep aligning standard procedure with individual teachers & corporate. He has extensively travelled across India and is aware of the diversity of the Indian culture.
Mr. Mehulkumar Dave is Founder cum Managing Director of MIND CARE AND MANAGEMENT ASSOCIATES PVT LTD based in Mumbai / Delhi specializes in providing Brain Computer Interface (BCI) i.e. technology based therapeutic interventions for Neuro-Developmental / Degenerative Brain Disorders along with psychological counselling, assessment and training services to educational institutions and corporate sectors. He has been doing research on the impact of Indian Classical Instrumental Santoor Music along with Dr. Bipul Kumar Ray (Santoor Maestro) on brain dysfunctions such as anxiety, stress, migraine, insomnia, depression and memory to name a few. 'Mind Care Team' is pioneer in merging Indian Classical Santoor Music with HEG Neurofeedback. Mr. Dave himself has learnt Indian Classical Vocal and Instrumental Music for 7 years. He himself is a Gold Medallist in Santoor Short Term Course from Delhi University.
Mr. Dave has been fascinated with the field of Neuroscience and Neuro-Psychology and therefore he has been studying Brain related dysfunctions/ disorders since last 5 years. He has number of certifications in this area from Stanford University, Georgia Tech University, University of Melbourne, John Hopkins Bloomberg School of Public Health and many more. In India, along with his team of Clinical Neuro-Psychotherapists are pioneer to bring Hemoencephalography (HEG) Neurofeedback and EEG based brain training technological interventions in India. Presently, he has been also studying Psycho-Pharmacology, Neurology, Nutrition and other areas which play a vital role in brain related dysfunction.
Mr. Mehulkumar writes column on successful case studies of Autism Spectrum Disorder, ADHD, Insomnia, Aphasia, Brain Haemorrhage, Down Syndrome and many more in 'Janmabhoomi Pravasi' Mumbai edition every Sunday. Apart from this, he also teaches in various institutions to post-graduate students from time to time.
Mr. Dave opines that most of the people in Indian society is not aware of the importance of Psychological therapies, Neuroscience and technology based therapeutic interventions. Therefore, they are unable to use such non-invasive & free from side effects services. Now, it is our duty as mental health community to create awareness in the field of Mental Health in India and other developing countries where this discipline has minimal recognition. This will help enlighten the life of those people who need it.